German language version — Overview — Garlic Gang — Books on Cooking (German) — Guestbook
---
Spaghetti Carbonara
---
A Carbonara is the wife of the charcoal burner, a person that necessarily lived a relatively isolated life in the forest. Therefore the cooking had to make do with a restricted set of ingredients. Smoked bacon or ham can be stored for a long time even without refrigeration. The same is true for Parmesan type cheese and pasta. Eggs come from locally held chicken. The cream originally was more likely from goats milk. The modern recipe uses normal sweet cream, and also adds (a lot of) black peper.

Pasta Carbonara is quick and easy to prepare. It can be made with cheap ingredients, and the result is very good. If you can get original smoked bacon (Speck) from Austria, Italy or Bavaria (and can afford it), go for it. But the recipe comes out perfectly fine with cheap breakfast bacon.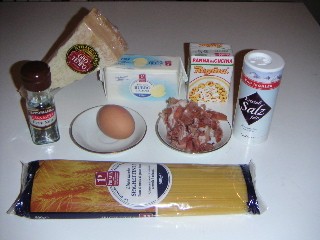 Ingredients (per person)
50-75g smoked bacon or ham
50 ml sweet (but unsweetened ;-) cream
1 tablespoon Butter or neutral cooking oil
A fresh egg
Salt
Black pepper (freshly ground!)
Optional (and recommended): Fresh parmesan Cheese
Ca. 150g Spaghetti
Some olive oil (for the pasta)
Preparation
Bring a large pot of water with a pinch of salt and a dash of olive oil to the boil, and cook the spaghetti as directed on the package (typically 7-8 minutes for al dente spaghetti). Please don't spoil the spaghetti by breaking them - just put one end of the pasta into the pot and move in the rest once it softens.

While waiting for the water to boil, cut the bacon into small pieces - the particular shape is uncritical. Fry the bacon in a pan with a little butter or oil, until it is crisp. Then remove the pan from the heat and add the cream. Add a lot of freshly ground black pepper and salt to taste. Let the bacon/cream mixture cool for some minutes. Then add the egg and mix well.

When the pasta is done, quickly strain it. Return the pasta to the pot immediately - it should not drain comletely, and and on no account should it cool down. Add the bacon/cream/egg mixture and mix well, then cover the pot and wait for two minutes. The heat from the pasta should partially cook the egg. If you have trouble achieving the desired degree of creaminess, you can return the (covered) pot to the still hot plate (or, if using gas, put on minimum heat) for a minute.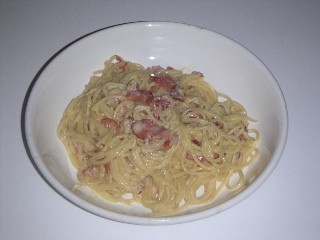 Mix again, and serve with a generous portion of freshly grated parmesan chease. I recommend a dry Italian red wine, e.g. a Chianti Classico.
Keep in mind that the egg is not fully cooked. So make sure that you use only fresh eggs from a reliable source.
---
---
Impressum